Age gap in friendship: how to bond on shared values and mutual interests
An age gap in friendship can open you to the potential of new experiences and a fresh perspective. Find out what happens when you form a friendship that's based on mutual interests and shared values.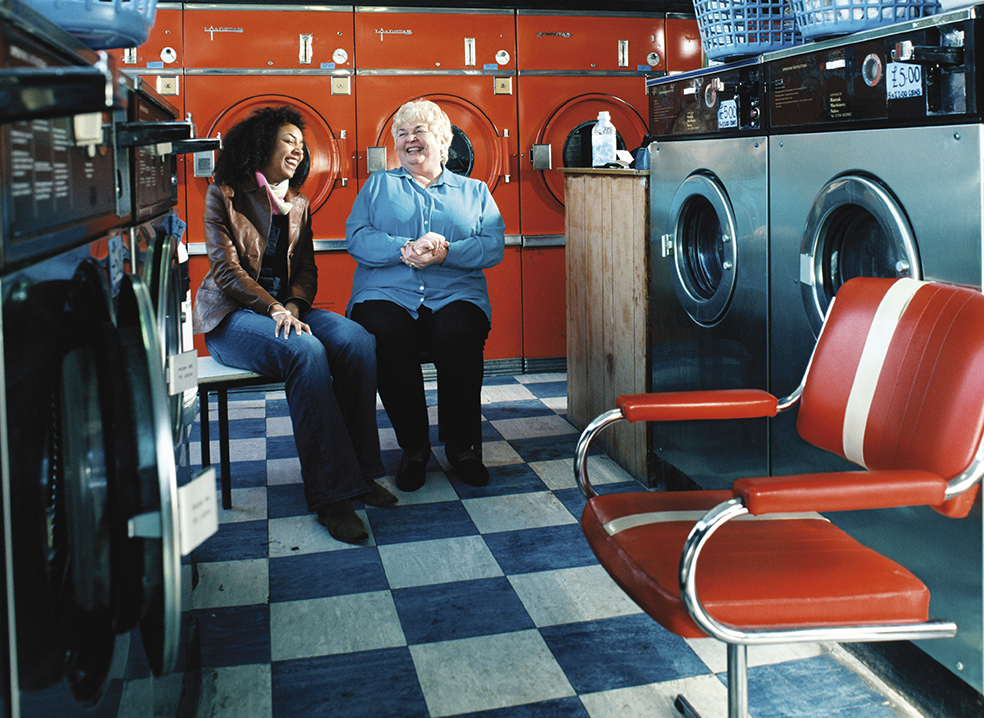 An age gap in friendship can open you to the potential of new experiences and a fresh perspective. Find out what happens when you form a friendship that's based on mutual interests and shared values.
Sitting in our favourite coffee shop, my friend Yvette and I are putting the world to rights. We used to work together – she was my manager at my first proper job after university – and since we both left that workplace, we've grown even closer, bonding over a shared love of strong coffee, feminism, and Fleetwood Mac. We have so much in common and can natter for hours.
She's also around 40 years older than me. But the age gap in friendship doesn't matter – if anything, it brings an extra dimension to our friendship. While some people stick to forming friendships with those of a similar age to them, reaching out and connecting with others who aren't in the same age bracket as us can bring so much joy. It can show us fresh perspectives and open us to new experiences, and also influence the way we feel about ourselves and our place in the world.
'There are so many repeating themes throughout life, and we can often feel we're the first person to go through something. But, actually, we find that people have already been through these problems and can help us navigate our own path,' says psychologist Dr Marianne Trent. I know that's certainly true with Yvette: she's given me much reassurance when the world has felt like a difficult place, offering wisdom from her own experiences.
Younger friends can bring different perspectives, too. Life coach Carole Ann Rice
talks about a friendship she has with a woman in her early 20s, who helps her see things from another point of view. She finds it rewarding to be able to o er guidance to her friend.
'I feel that it's a lovely pleasure to be able to support her,' Rice says. 'I try to cheer her on.'
The day we speak, Rice tells me that she's looking forward to going out for tapas with this friend that very evening, excited to catch up on the latest news and exchange their own takes on life.
And even children have so much to offer us: I think of how energised I feel after seeing my nephews. It encourages me to have fun, riding rollercoasters together, or tackling a climbing frame with them that makes me push back my fear of heights and embrace my playful side.
Trent tells me how her own children help her see things from a different perspective. When her father died, the questions from her young children helped her process what had happened and consider it from their point of view. When we have friends of different ages, Trent says, we sometimes reframe how we talk about things, which helps us think about it in another way.
Challenging the assumptions of an age gap in friendship
Of course, it's important to steer away from stereotypes about age, and intergenerational friendships can help us to do this. Instead of the traditional image we see on TV, we might have an older friend who is always embracing new experiences. Research by Age UK shows there are benefits of an age gap in friendship. The organisation found that having at least one older friend helps us to feel more empathy, and when we have genuine friendships with people who are older than us, we realise the extent that age is just a number and the value of individuals, no matter what their date of birth.
Chatting with Yvette, she always tells me about exciting things she's up to. Seeing the abundance in Yvette's life helps me feel better about ageing. It makes me more excited about my future, and hopeful about the possibilities.
We might also know teenagers who are 'wise beyond their years. These friendships can help to build our compassion towards others, helping us to see that people can be intelligent, fun, and kind, however many candles on their last birthday cake.
Rice has found that having a younger friend gives her an insight into the challenges faced by other generations, such as the pressures of social media. 'I've learned what young people's issues are, and how different they are to mine, but also how similar, too,' she says. It helps her appreciate what it's like to be growing up now.
Interdependence over independence
Connecting with others is important to our wellbeing. 'We often think that independence is the winning strategy, that we want to be fully independent, but actually that's quite threatening to us as mammals because we're not supposed to be entirely by ourselves,' Trent says. Instead, we should look to interdependence – being able to make the most of the people around us for support in a healthy, positive way.
'Getting older can feel more destabilising because we have to learn to look sideways and down for our family connections, whereas from our earliest experiences, we're looking up,' says Trent. 'And so I think the advantage of having intergenerational friendships is that you can look up and down again, and from side to side.' When we surround ourselves with people of different ages, we are widening that circle around us.
Forming friendships
Both Trent and Rice tell me enthusiastically about the intergenerational friendships they themselves are in. A few years ago, Trent made friends with a woman in her 80s whom she regularly passed in the street near her home. One day, she invited her round for tea, and soon she became an important part of her family's life.
Trent and her friend both benefited from the age gap in their friendship. 'It helped give her a bit more of a purpose, and a chance to connect with age groups that she thought had passed her by,' says Trent. Her friend cared about Trent's children, and played a positive role in helping them.
There are ways to reach out and form connections between different generations. An increasing number of schemes are set up to bring children into care homes to talk to the people there. This, Trent says, brings mental health benefits to both groups.
'It gives older people structure and purpose,' she explains, while children can find they learn about lives that are different from theirs, building compassion. Those involved in the schemes report that they can boost older people's confidence and self-worth. Children's confidence also improves, along with their vocabulary and socialisation.
For many of us, the office is where we interact with people of different ages –something known as the five generations workplace. Research shows that intergenerational workplaces help improve attitudes to ageing and challenge stereotypes or unconscious biases, and can lead to more harmonious working environments. It's in the workplace where many of my intergenerational friendships first formed.
Yvette has helped me think through my career – when I felt stuck at work, it was talking to her that made me see the options available to me as someone who's been there herself. She is someone to share career successes with, who understands my journey and can cheer me on.
Look at your existing relationships: is there an older or younger family member you could connect with? Rice tells me how her younger friend is the daughter of someone she already knew. For me, joining a writers' group is another space where I've forged friendships with people of different ages and backgrounds, coming together over a common interest.
Whether we're sharing ambitions, chatting through holiday plans, or talking passionately about the news, I get so much joy from my friendship with Yvette. I've learned such a lot from her, but most of all, I see her first and foremost as a good friend.