Turn back the clock
How to beat the blues during the gloomiest days of the year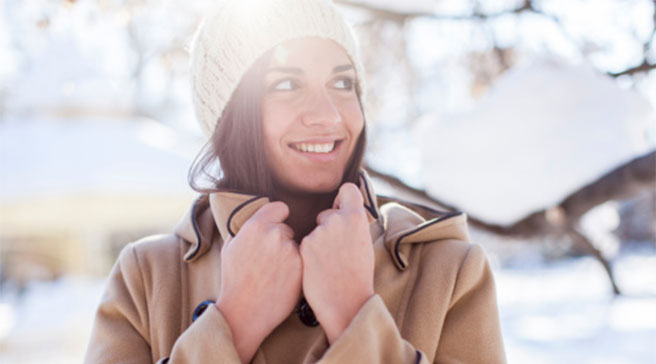 Many Britons all over the UK marked the end of summer by enjoying an extra hour in bed. Yet according to a new survey, the final Sunday in October not only marked the day the clocks go back, but also the day a staggering 73 per cent of British women* experience a dramatic dip in their overall mood. The research discovered that it wasn't just lack of sunlight or sub-zero temperatures that contribute to our unhappy mood or lack of body-confidence. Forty-four per cent of the 1,000 women questioned sighted a dull and neglected complexion, as the effects of winter weather can increase skins' sensitivity and irritation, which can further affect the way we feel about ourselves. So what can we do to help combat winter blues? The women who took part in the survey also gave an insight into the positive steps we can take to make us feel better during the cold, bleak months. Incorporating these measures into your everyday routine and investing in a winter wellbeing formula is a great way to ensure that health and happiness is maintained from now through to the New Year.
Food for thought Forty-nine per cent of the women surveyed believe that eating more fruit and vegetables is a great way to elevate their mood. Make the effort by incorporating more of it into your daily diet. Opt for a mixture of green vegetables such as kale, cabbage, broccoli as well as berries and pomegranates. Studies show that the compounds found in these foods are potently protective for the immune system. Delicious fruit smoothies or hot soups are an easy and convenient way to make sure you get your five a day.
Step up Make exercise a priority. Although it may seem easier to spend your time snuggling on the sofa, being active is critical for boosting your mood in winter. For motivation, write down three reasons why you might want to work out this winter. Keeping goals at the forefront of your mind will make you decisive and pro-active. Reasons don't have to be exclusive to your health, either; they could include a Christmas party, family gathering or a winter-sun holiday. Liven up your work-out routine by trying a new sport, or make it a social affair by attending a new class with friends, as a group dynamic can make exercise especially fun.
Fuzz-free The first part of our beauty routine to jump ship in the winter is hair removal. This is despite 66 per cent of women feeling that having smooth, hair-free skin boosts their overall body confidence. Shaving regularly is the perfect pick-me-up for gorgeous winter skin, and being fuzz-free gives you more freedom to wear feel good outfits that can help to improve your self-confidence. The new Venus ProSkin Sensitive (£9.99, boots.com) is a bath-time saviour and works wonders on sensitive skin.
Quick-fix A spritz of your favourite perfume can really help to lift your spirits. Familiar aromas can instantly trigger happy memories so it's worth making sure your favourite scent always has a place in your handbag. We adore Elizabeth Arden's Untold (£35, debenhams.com) for its confidence-boosting ability. The fresh and fruity notes of pear, blackcurrant teamed with Egyptian jasmine on an amber base induces warm smiles all round, no matter how cold the temperature is outside.
Rise and shine Lack of sunlight can have a significant impact on our mood as it affects the amount of serotonin our bodies produce. Add as much sunlight to your day as possible. Keep blinds open in your workplace and try to take a walk during the brightest part of the day. As well as the added benefit of increased serotonin production, the light exercise will also prove beneficial to your mood. For those that feel the timing of light is just an important as the amount, then invest in a bedside SAD light or dawn simulator (£59.95,lumie.com). The devices mimic natural light that helps to reset the body's natural rhythms making you feel more awake and refreshed when it's time to get up.
* Survey conducted by Venus in the UK, September 2013, with 1,000 respondents (OnePoll research)