Family time on the Camino de Santiago
Determined to experience a holiday with a difference, Lizzie Enfield takes to the famous Camino de Santiago pilgrim route with her two children, for eight-hour hikes, blisters and lots of laughs along the way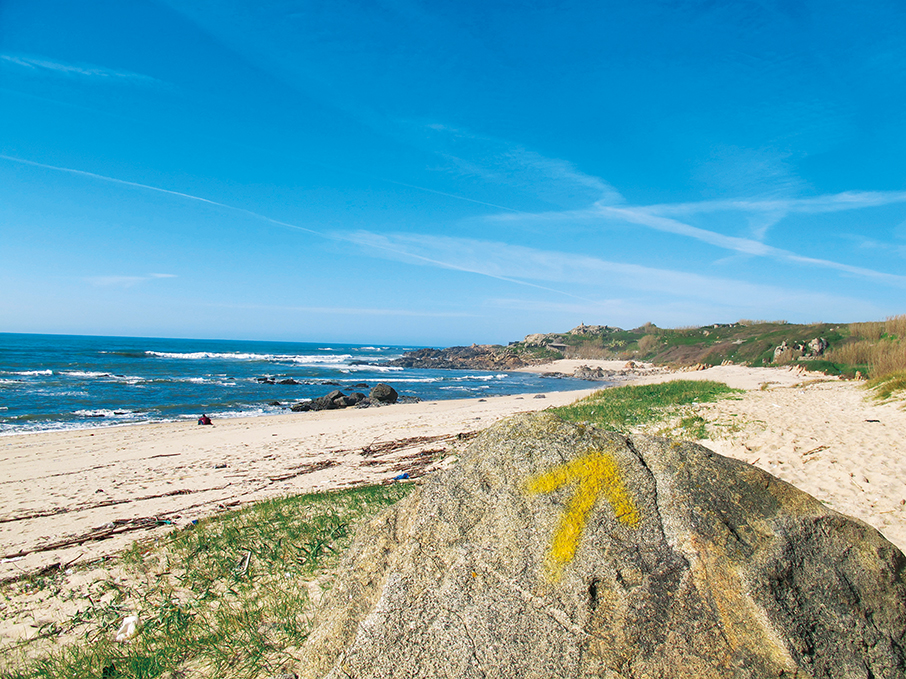 Kitty, my 14-year-old daughter, surprises me when she announces out of the blue that she is really looking forward to the following day. We are in Esposende, a beautiful resort on the north Portuguese coast, but it's not a swim or an ice-cream or even a chance to kayak down the River Cávado that she's looking forward to – it's the fact that the plasters won't have to be rationed any more.
'I'll be able to put one on every single blister,' she says happily. 'Does that mean I can use all the anti-histamine then?' asks her younger brother Lucas, 11, himself covered in insect bites.
Tomorrow is our final day walking a section of the ancient Santiago de Compostela pilgrimage route from Portugal – all the routes eventually converge on the Spanish city of Santiago de Compostela. We've been hiking up to eight hours and 20 miles every day. Yet in a strange way, the kids are enjoying themselves rather more than they ever have during a week at a beach resort.
We set out from the colourful city of Porto, with its UNESCO-listed Old Town and picturesque riverfront, and have walked up the north Atlantic coast, staying in fishing towns and villages along the way. The landscape and terrain has been wonderfully varied; from deserted windswept sandy beaches and rugged rocky coastal paths, to ancient cobbled pathways and deep forest tracks. And the mental terrain we've covered has been equally diverse. For every river we've crossed and mountain path climbed, we've passed though a pain, boredom or 'I'm completely losing the will to live' barrier.
Of course we've had fun, too. We've dipped in the frothy spring Atlantic, exchanged friendly 'Bom Caminos' with the farmers as we pass by their fields, visited the Porto bookshop with a fantastical staircase that inspired Hogwarts' moving ones, and feasted on an abundance of seafood.
Rising to the challenge
One of the best things – for me anyway – has been seeing the children rising to the challenge of spending all day every day just walking, and sometimes walking in pain at that.
They chat, they sing, they pretend to be making video blogs – 'We've basically been walking all day and tomorrow we are going to walk all day…' – and they look out for each other. 'Kitty, what size are your walking boots? Perhaps we could swap?' This sort of solicitousness is unheard of back home! And, as I eavesdrop, I am delighted by their quirky turns of thought.
The route is well-marked with yellow arrows. At first, these have mostly been hand-painted on rocks or beside the road but, after a while, they became more uniform, spray-painted stencilled arrows. 'It must be a nice job, spraying arrows,' observes my son.
'I wonder if it's Banksy's part-time job?' my teenage daughter muses.
And the rest of the day is somehow easier, because we are no longer looking out for ordinary yellow arrows, but spotting 'Banksys!'
Finding the motivation
We get a bit cross with Banksy on a day when he misses an arrow at a fork in the road and we have to retrace our steps. But the kids are stoical and, even when it begins raining hard and I ask if they want to take a taxi for the final three miles, they refuse to give up – 'we're not quitters!' I was surprised when I mooted the idea that we should go on a family pilgrimage that they were both keen to do it, and also that the concept of a pilgrimage was familiar to them: 'we've studied Mecca at school.'
Many of the people we encountered along the way were, of course, on a spiritual or religious journey, whereas for us, it was really more about doing something outside of our normal comfort zone, experiencing the rhythm of the route and having time to think.
My children have really impressed me on this adventure though – and I tell them so – by being so up for it, by coping when it was boring or difficult and by generally being great company. They have definitely scored far more points than they'd have picked up if we'd lain on a beach in Greece for a week.
We may not have had the same religious motivation as the ancient pilgrims whose footsteps we followed in but, as an exercise in family bonding and for a great sense of achievement, taking to the Camino de Santiago was definitely the way to go.
Lizzie Enfield and her two children travelled as a guest of Camino Ways. To walk the Portuguese coastal route from Porto to Baiona takes six days and costs from £498 per person for accommodation, luggage transportation, guided walking notes and route maps. Easyjet flies from the UK to Porto, and there is a connecting train service with towns along the route.
Lizzie Enfield's latest novel Living With It (Myriad Editions, £8.99), is out now.
Photograph: An arrow points 'the way' on Sampaio Castro beach near Vila do Conde
What is the Way of St James?
The Camino de Santiago (or The Way of St James) is the name given to the ancient European pilgrimage routes to the famous shrine of the saint in the city of Santiago de Compostela, in northwestern Spain. The most popular is from St Jean Pied de Port in France, which crosses the Pyrenees and takes in Pamplona, Burgos, León and some spectacular countryside.
What is the provenance of the pilgrimage?
For thousands of years, followers of many of the world's great religions have undertaken pilgrimages, leaving the responsibilities and distractions of everyday life behind to discover what is truly important. Today, the Camino still attracts people from all over the world for spiritual reasons; many also walk it for fitness or to discover natural beauty and heritage.
UK pilgrimages to try solo or in a group
St Cuthbert's Way follows in the steps of the Anglo-Saxon saint, for 62 miles through the Scottish borders to Lindisfarne in Northumberland.
The Saints' Way is a stunning 27-mile walk from Padstow to Fowey in Cornwall.
Diehard walkers can attempt The Pilgrim's Way, a 120-mile track from Winchester to Canterbury in Kent.