Vegan coconut Eton mess
The founder of Qnola has put together this dessert recipe as a healthier alternative to the classic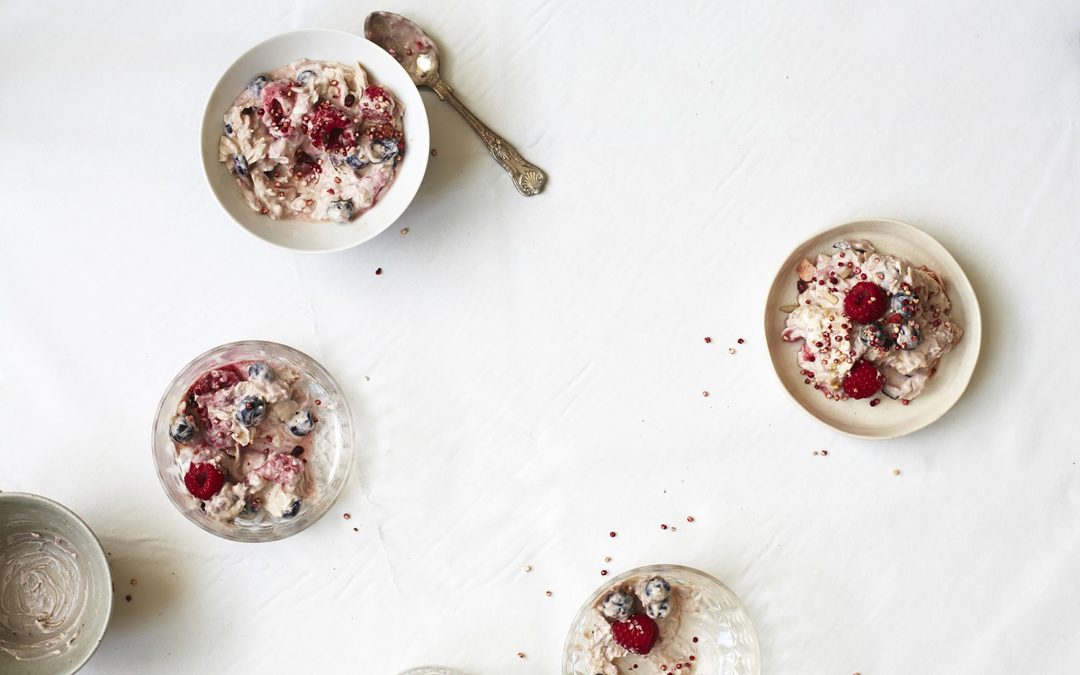 By eliminating refined sugars and adding functional, body-loving ingredients, Danielle Copperman – nutritionist and founder of Qnola – has created healthier alternatives to summer favourites.
Give this recipe for coconut Eton mess a try.
Ingredients
2 tins coconut milk (or CoYo/Coconut Collaborative)
1/2 bar of creamed coconut
1 tsp coconut palm sugar OR honey OR agave, optional
200g toasted coconut flakes and/or Beetroot & Pistachio Qnola 50 – 60g flaked almonds
2 tbsp chia seeds
2 tbsp desiccated coconut
1 tbsp maca and/or baobab
1-2 tbsp fresh mint, finely chopped
150g strawberries, gently mashed
50g raspberries, gently mashed
100g blueberries, gently mashed
1 tsp fresh lemon juice
1 tsp vanilla powder/seeds, optional
Optional
Passion fruit
Mango puree
Ripe avocado, cubed
Chopped Medjool Dates
Method
1. Start by whisking the solid part of the coconut milk (or your yoghurt) to whip some air into it.
2. Fill a small bowl with boiling water and place the sealed bar of creamed coconut inside to soften it. Whilst it melts, chop/mash your berries and prepare your avocado or optional fruits, if using.
3. When the creamed coconut has melted, snip one corner off and add half to your whisked coconut. Whisk again to combine.
4. When the mixture begins to thicken, stop whisking and stir through your berries, chia seeds, honey or sweetener of choice, maca, fresh mint, lemon juice and half of the coconut flakes.
5. Stir to combine and then either stir through the remaining coconut flakes or Qnola, or use them to top each dessert to ensure they stay as crunchy as possible.
6. Enjoy!
Recipe courtesy of Qnola.