Top six bathing experiences
A bath is meditative and relaxing, and the perfect place to let negative thoughts evaporate. Here, we look at six bathing experiences to soothe your mind and body. By Arianne Le Febvre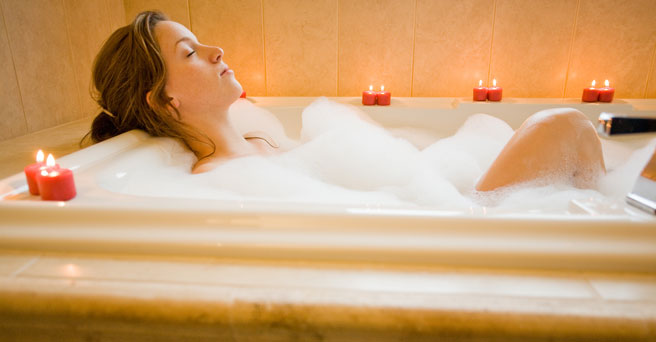 There's something deliciously soothing about a hot bath: it makes us feel secure and weightless. Hot water is a natural and reassuring element. Add bubble bath, essential oils or bath salts, and you can create your very own little sanctuary that will refresh your spirit and relax your limbs.
And if you want to add a splash of the unusual to your bathtimes, why not try one of these six relaxing and reinvigorating ways to soak?
1. The Japanese bath Water is of near-sacred importance to the Japanese, and is traditionally regarded as a route to wellbeing. Beauty and purification rituals for the body and the spirit mean that baths take on an almost religious significance. After washing, you ease yourself into a furu (tub) filled with very hot water (40 to 60°C) up to your chin. The baths are made of inoki (a white cedar) and have a cover over them to maintain the temperature. As your body gets used to the very hot water, your thoughts are liberated and free to wander. It is also a good place to meditate, and the bathroom in Japanese homes often looks out onto a pretty garden. To recreate this experience at home, light a candle scented with cedar essential oils, and sprinkle some rose petals into the water, or add scented oils to your bath.
2. The seaweed bath This type of bath is based on algae, sea salt or a freeze-dried concentrate of seawater. It is rejuvenating, and is the simplest and most accessible of all these treatments, meaning you can effectively recreate the spa experience in your own bathroom. A seaweed bath speeds up the way the body deals with waste and toxins, and recharges the skin with negative ions (which is what happens when you go to the seaside). The products are rich in essential oils and minerals, and have rejuvenating, detoxifying properties – ideal if you suffer from bouts of tiredness. Just a word of caution: avoid seaweed if you're allergic to iodine or if you have thyroid problems.
3. The aromatherapy bath An aromatherapy bath uses essential oils, which stimulate our sense of smell and have therapeutic qualities. Some are relaxing (lavender, orange blossom, mandarin, lemon balm, ylang-ylang), some are toning (bergamot, marjoram, grapefruit) and some are reinvigorating (mint). All you need to do is dissolve a few drops of your chosen oil in a dessert spoon of vegetable oil or milk, then add it to your bathwater. There are plenty of ready-made products available, too. Breathe in the aromas deeply, close your eyes and let your worries float away, feeling your tension easing and your senses awakening.
4. The milk bath Bathing in milk is associated with beauties of ages gone by, such as Cleopatra or the Roman emperor Nero's wife, Poppaea Sabina, who loved to plunge into a tub of the white stuff to make their skin look virginal. Milk envelops, caresses and surrounds the body in a soothing film, leaving it supple and soft and making the skin feel like satin. Rather than filling your tub with gallons of semi-skimmed, add half a cup of bicarbonate of soda to your bathwater. It will take on a milky colour and, however hard the water, it will instantly become very soft.
5. The childhood bath Childhood bathtimes were all about brightly coloured water, sparkling with millions of little bubbles gently tickling your back. This kind of bath means you can dip into your childhood and have fun splashing about in the foam. Choose a bubble bath that smells like sweets and make bubbly shapes of all different colours. Try mixing different ones just to experiment with the colours and delicious aromas that take you right back… You might never want to get out again