How swimming helped me get over a stress breakdown
When Katie Maggs suffered a breakdown through burnout, she could barely function and felt that she had lost herself. Then, a group of swimmers encouraged her into the sea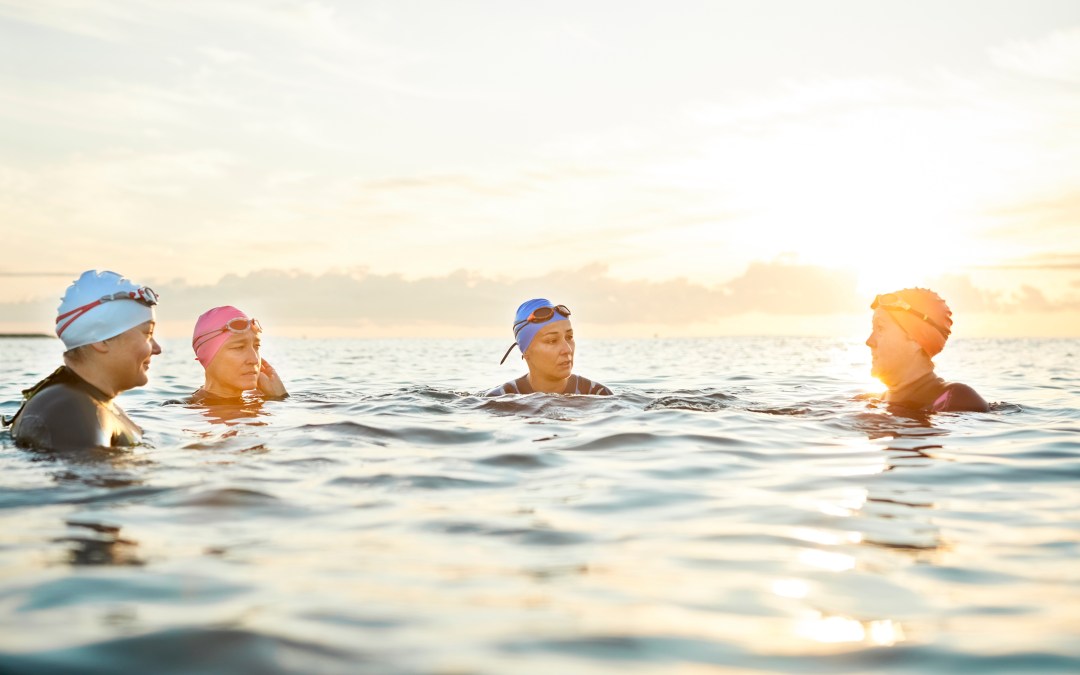 7 minute read
Each day, as dawn approaches, I cycle downhill to the sea. As I make my way to Battery Rocks, a wild swimming spot off the coast of Penzance in Cornwall, I hope to find my regular swimming friends there. In the dark, I can just make out their shadows, huddled together, sheltering from the wind and laughing at the madness of it all.
In the wintertime, the sea turns grey and there is an uninviting murkiness to it. Some mornings, I dread it – I feel tired and cold, and wonder what on earth I am doing out here in the dark. But, as I plunge into the rolling waves with icy rain pelting against my skin, I get an overwhelming sense that I am doing something extraordinary – that, if I can do this, then I can face almost anything.
In the summer months, my swims are long, the sea feels light and the sky is full of colour. Venturing underwater, I swim through long strands of golden sea kelp, past brightly coloured jellyfish, starfish and grey seals. It is hard not to feel happy here, watching another world go by. It is almost as though the slow pace and natural silence give me a daily reminder of how rushed, busy and chaotic life can be on land.
Depending on my mood, I don't always have to power through the waves, feeling strong and confident. Sometimes, I just go in and feel gently supported by the sea. Whatever the weather, whether I am worried, anxious or sad, I know that I will always feel better when I emerge.
Two years ago, I lost my way through burnout. I lost all the parts of myself that made me feel like me. I was always a positive, active and independent person, who loved helping others and experiencing new things, but all of that was slowly taken from me as my body and mind gradually gave up. I had done what I felt was right. I had worked hard as a department deputy at a college and I was caring for my father before and after work, as well as trying to be a good mum, a supportive stepmum and loving partner. In any spare time, I tried to exercise regularly, always pushing myself to extremes to be fitter – all of the normal life stuff.
Red alert
Looking back, the warning signs were clear. I often felt overwhelmed, upset and exhausted. I would feel so tired at work that I just wanted to lie down. Suffering headaches, skin rashes, blurred vision and shoulder pain, I kept returning to my doctor for my blood, eyes and moles to be checked. I can see now that the health anxiety was part of the deterioration; another warning signal. My brain was slowly ceasing to perform in its usual healthy way, but I just kept going. I had responsibilities, so I ignored the red lights until, unfortunately, I couldn't ignore them any more.
I developed a stress-related muscle condition, where constant twitching plagued my legs, hands and face. During chronic insomnia, I would sob into my pillow at night. I hardly left the house and I was terrified of what my world had become. The decline happened so fast that I didn't even recognise myself any more.
One winter morning, after yet another sleep-deprived night, I stood crying in the kitchen. I knew that I needed to get the bread and items out of the cupboard for my son's packed lunch, but it felt like too big a mountain to climb. I realised in that moment how painfully unwell I had become – I was feeling too overwhelmed and confused to make a sandwich.
My doctor signed me off work and gave me medication. I felt like a failure, as though I had let everybody down. I wanted so desperately to be well, but I was trapped inside my own negative mind, like an outsider looking in. I kept a detailed list of my symptoms, desperately trying to find a cause, obsessively monitoring the twitching of my body and addicted to my Fitbit as it tracked my ever-present insomnia.
All joy had drained from my life. Celebrations with my family came and went: holidays, parties, dinners. I was present, but only in physical form. I felt I was no longer a part of what everyone else was doing. My world had gone dark and I saw no hope of ever finding my way back into the light.
I didn't want to go to sleep, for fear of the movement in my body. To escape, I would go walking at first light. Sitting in the dark on the rocks, waiting for the sun to rise, I met some Battery Rocks swimmers, who asked me if I was OK. Over days and weeks, we got chatting and, as they shared their stories of struggle and loss, I began to feel less afraid and alone.
Into the deep
I felt so inspired by these people, some in their 80s, who swam only in their swimsuits every day. They suggested I join them in the water, and I desperately wanted to, but I was nervous. I had always enjoyed swimming in a pool, but I had never been confident in the sea and I had lost so much faith in myself.
It was then that I met Mike, an ex-lifeguard and my now swimming partner. He assured me that I would be safe if I swam with him and so, after weeks of indecision, I decided to try. Climbing over the rocks for the first time, I felt weak, exposed and a fool in my swimming costume. The water was so deep that panic filled my chest as I struggled to breathe in the cold. But, somehow, each day at dawn – through the blur of exhaustion and despair – I would find myself there. Mike continued to encourage me and gradually I was able to swim further; from one swimming buoy to the next and in all kinds of conditions. After a few weeks, I was shivering on the steps one morning – it was still dark, and I was sheltering from a biting wind. I started to laugh at how crazy this dawn endeavour was. I felt waves of courage and pride that I was battling against all that the weather and sea threw at me. Doing something that seemed impossible every day made facing the rest of the day possible. I would get out of the water and think: If I can swim in the sea, there is part of me that is still here – my son hasn't lost his mum and, just maybe, I haven't lost me.
Floating back to myself
As winter turned to spring, I swam out into the bay one day and my goggles filled with tears. I realised that the darkness had retreated, and some of the colour had returned. I had done it. I was me. I had won.
The advice I offer to friends, family and even strangers I meet where I swim, is that we need to slow down and listen to our bodies when we begin to feel overwhelmed. It can be harder to even attempt to heal after we reach a certain point. My full recovery took more than a year. It encompassed a mix of the physical exercise of swimming, being part of a tribe of caring people, the power of nature and allowing myself time and space every day to simply be who I am.
Looking back, before I became unwell, I wasn't doing anything that inspired me, fed my soul, or allowed me to rest and take time out to gain clarity. I owe so much to the sea and to the wonderful people who I met on her shore – the fun that we have, the laughter and daily adventures. The sea rebuilt the parts of me that I had lost – my confidence, joy, courage and self-worth and, for that reason, I will continue to swim and rejoice in the fact that I am no longer drowning.
Don't crash and burn out
Keep an eye out for signs that you are spinning too many plates in your life…
How to identify burnout
A feeling of being permanently overwhelmed
Multiple health concerns and anxieties
Sleep disturbances and insomnia
Exhaustion and persistent fatigue
A lack of motivation and interest in activities you used to enjoy
Forgetfulness and impaired concentration
How to avoid burnout
Prioritise 'me' time – put your self-care first
Seek support – find your tribe
Listen to your body – be mindful of physical warning signs
Discover your own 'tonic' against burnout – rediscover your joy
Maximise your mornings – start the day with purpose
Read about Katie's upcoming self-help book,'Tonic Of The Sea', and an award-winning short film about her, here.
Image: Getty