OFFER: 6 issues of Psychologies + our new journal for £29.99
Create a life you love with a subscription to our magazine plus our new wellness journal...
Make time for self-care this spring with our latest offer: 6 issues of Psychologies, plus our brand-new journal, for only £29.99 (a saving of 18%)!
Get ready to upgrade your me-time regime with a subscription to Psychologies magazine plus our brand-new wellness journal.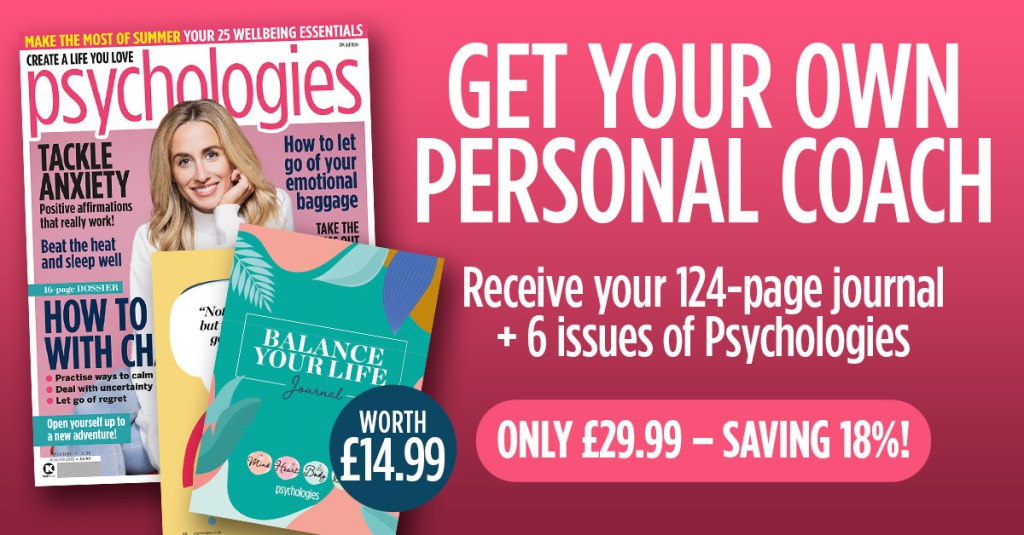 About our magazine:
Psychologies' mission is to provide every woman with inspiration and advice to help her improve her emotional wellbeing. We aim to help her boost her happiness and resilience and lower her stress and anxiety. We do that by providing simple, achievable steps to make small changes that can add up to a real difference.
Embracing the four pillars of our life, from mind and body to heart and soul, Psychologies engages with the world around us as well as the world within to help our audience discover inspiring ways to make every day better and create a life they love.
With our latest offer, you can get 6 issues of Psychologies magazine, plus our new wellness journal, for just £29.99.
About the Psychologies 'Balance Your Life' Journal:
Created to act as your own personal life coach, our 124-page journal will help you reflect what's really going on in your world and bring things back into balance. It's packed full of prompts and exercises to help you recognise what is working for you, while others will help you dig deeper and work out how you want to move forward.
Find out more about the Psychologies Journal here!
How to redeem this offer:
Click here to get 6 issues of Psychologies plus our new journal for £29.99
When you subscribe to Psychologies, you automatically become a member of the 'Psychologies' Subscriber Club and receive the following exclusive benefits:
Opportunities to talk the experts
Access to our subscriber-only Facebook group
Special subscriber only weekly e-newsletter*
Discounts on Psychologies products
Free delivery to your door in 100% plastic-free packaging
PLUS! You will receive inspiration and advice in every issue to create a life you love.