My grown-up gap year
Feeling directionless, Angela Elwood, 54, packed a bag and set off to explore Asia. It was the start of a new life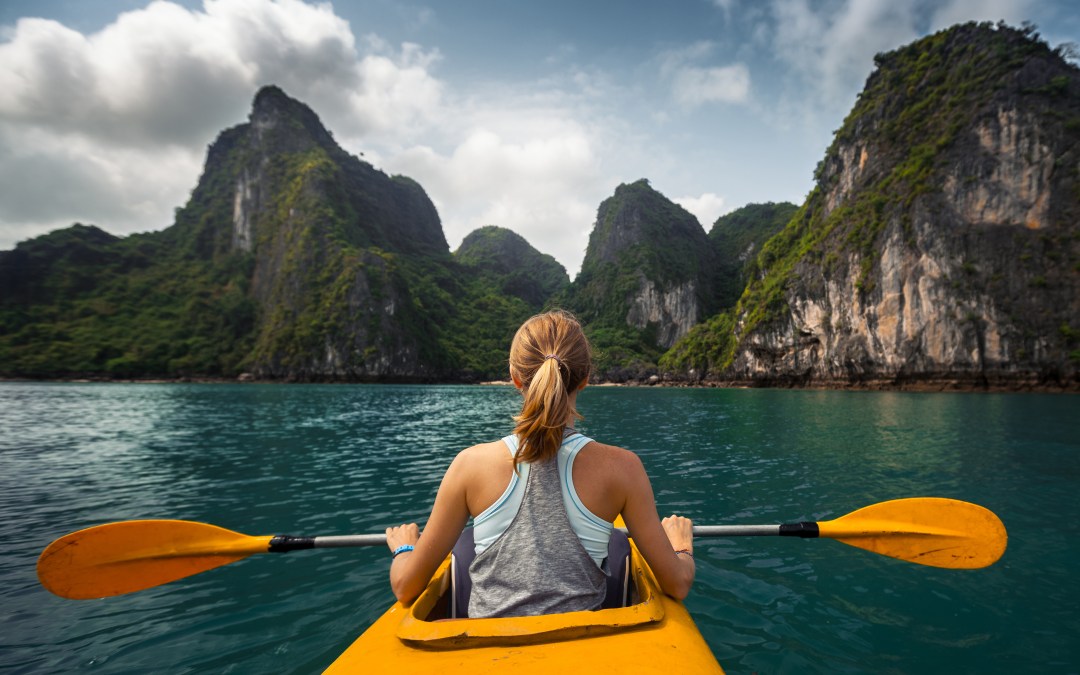 The national anthem plays loudly across Hua Lamphong station in Bangkok. I am extremely hot and surrounded by people: monks in orange robes sitting on wooden benches; travellers lying on the floor. Every Thai person stands to attention as the music starts, a show of national pride that never fails to move me.
I recall the first time I was privy to this spectacle. I had been eating in this very station, waiting to board a train for Singapore and, when everyone rose around me, I'd had no idea why they were doing so, nor what to do myself. Now, I smile and, despite my tiredness after a long flight from the UK, I feel delighted to see it again, and completely alive. I'm back in Thailand.
It's been 18 months since, at the age of 54, I made the decision to take a year out – a mature gap year, you could say. I remember arriving in Bangkok, alone, and sitting in a quiet sky bar with a glass of wine, thinking ,'What have I done?' I had left behind 19-year-old twins, a business, a house, a happy social life and good friends – to travel through Asia.
Why? As a middle-aged woman, I had begun to feel invisible and past my best. My children were set to move away from home and I faced a deepening sense of loneliness. I had a choice. I could either stay where I was and grow older there, or take a chance and try somewhere else. From early childhood, I had harboured a dream of travelling, but it had become buried under the realities of life – work, marriage, children and divorce.
Immersed in the culture
Public transport in Asia is sometimes uncomfortable, never on time, mostly unreliable and possibly unsafe – but never without amusement. Usually, I was squashed on trains and buses between people, chickens or fish. On the plus side, it is incredibly cheap to use, and allows the traveller an 'interactive' experience while touring a country, in the company of often hilarious locals. I completed my gap-year travels safely, finding accommodation in an array of shared dormitories, cheap, adequate hostels, hotels and homestays.
It is sometimes challenging to answer questions about my travel experiences, because my unforgettable time in Asia is made up of many moments – snapshots in my memory, if you like. Sure, there are incredible images and places that stand out – sunset at spectacular World Heritage sites, such as the ancient temples of Angkor Wat in Cambodia, and Bagan in Myanmar, plus more modern landmarks, like the Petronas Towers in Kuala Lumpur, Malaysia.
Yet, other less 'grand' moments have just as much significance: arriving in Hanoi after an overnight train journey to the offer of refreshment from a tiny Vietnamese woman at her mobile coffee stand, complete with worn red plastic chairs and cups.
The only thing to fear…
Then, there was feeling frightened in Ho Chi Minh City (still commonly known as Saigon), as I attempted to cross a road packed with bikes, when a man grabbed my hand… All the stories about terrible events that can befall lone women travellers flew through my head as I frantically ticked off his possible motives. Theft? Rape? Kidnap? It was dark and deserted on the other side of the road – but, he simply bowed and walked away after leading me to safety.
On my journey along the Mekong River, I spent four happy hours on a bus with 20 Vietnamese women. We didn't have a common language, but we shared plenty of laughs. I passed around a packet of biscuits and they returned the empty wrapper to me – toothy grins all round.
There were many moments of real connection such as this. People smiled and waved at me all the time, I was touched often, fed, given directions, offered seats and welcomed into homes. This is what I had come to find – pleasure and appreciation in the moment. Looking back, these occasions are gifts, which I take out and look at from time to time.
I spent weeks teaching English in Cambodia. Conditions were difficult but the children were beautiful. We were hungry, bitten, tired and then refreshed by bucket showers. Yet, when I lay in my dusty, uncomfortable bed, under a net to keep out mosquitoes, spiders and other crawlies; hot and sleepless – I knew I didn't want to be anywhere else.
I returned home a year to the day after I left. The worst thing was having to put my feet back into shoes. It was great to see friends and family again and everyone was fine and happy to see me – but life had gone on without me. A year away had changed me, too, and I found it difficult to settle down. I had tasted freedom – the wind in my hair, dirt on my feet, delicious food, different cultures, and a new way of being.
Eyes wide open
I had reconnected with life – I had a different sense of who I was and my place in the world. I valued the small pleasures again: patience, acceptance; amusement; appreciation; the sheer wonder of the world. Even when things went wrong – delays, bus breakdowns, the inconvenience of communal dormitories, getting bitten by ants, I learned to wait and appreciate, to 'occupy' myself, practising bravery, acceptance and 'walking tall'.
Yes, there were things that I missed while I was away – good skin products, a decent glass of wine, Brussels sprouts, Christmas crackers and clothes, especially underwear, that fit properly. But, having just one bag forced me to be judicious about my belongings, and I repacked and decluttered regularly. Having very few items of clothing truly cuts out the anxiety about what to wear: you simply put on what's clean.
I soon went back to Thailand to teach English in a rural school. In fact, I am writing this travelling third class on a train from Bua Lai to Nong Khai, on the Laos border, to extend my visa. The windows are open, the breeze is in my face, there is beautiful countryside to admire, and I ask myself: 'Why did I travel to Asia on my own?' And I know with certainty that not going would have been my greatest regret.
Angela Elwood is author of 'A Year In Flip Flops' (Pegasus, £8.99). For more about her travels, visit ayearinflipflops.co.uk
Photograph: iStock