Cook For Syria
A new nationwide fundraising campaign is taking place in November with a focus on cuisine from Syria
The #CookForSyria month-long campaign encourages restaurateurs, chefs, bakers and café owners from around the UK to take part by putting a 'Syrian inspired twist' on one of their favourite signature dishes (or by creating a new dish) and donating £2 from each sale of that dish.
This initiative is curated by influential Instagrammer ClerkenwellBoy and SUITCASE Magazine in aid of Unicef's NEXTGeneration – their Children of Syria Fund. #CookForSyria will take place in November and kicks off with a special charity dinner on 31 October featuring top chefs including Angela Hartnett, Fergus Henderson, José Pizarro, Nuno Mendes, Sami Tamimi and Yotam Ottolenghi.
There are hopes that the initiative will then be continued globally.
Syrian cuisine is one of the oldest in the world and reflects the country's rich cultural heritage with influences from across the Middle East and beyond. Psychologies' Contributing Nutrition Editor Eve Kalinik has provided this excellent sweet potato and halloumi warm salad with tahini dressing recipe that fits perfectly with the #CookForSyria initiative: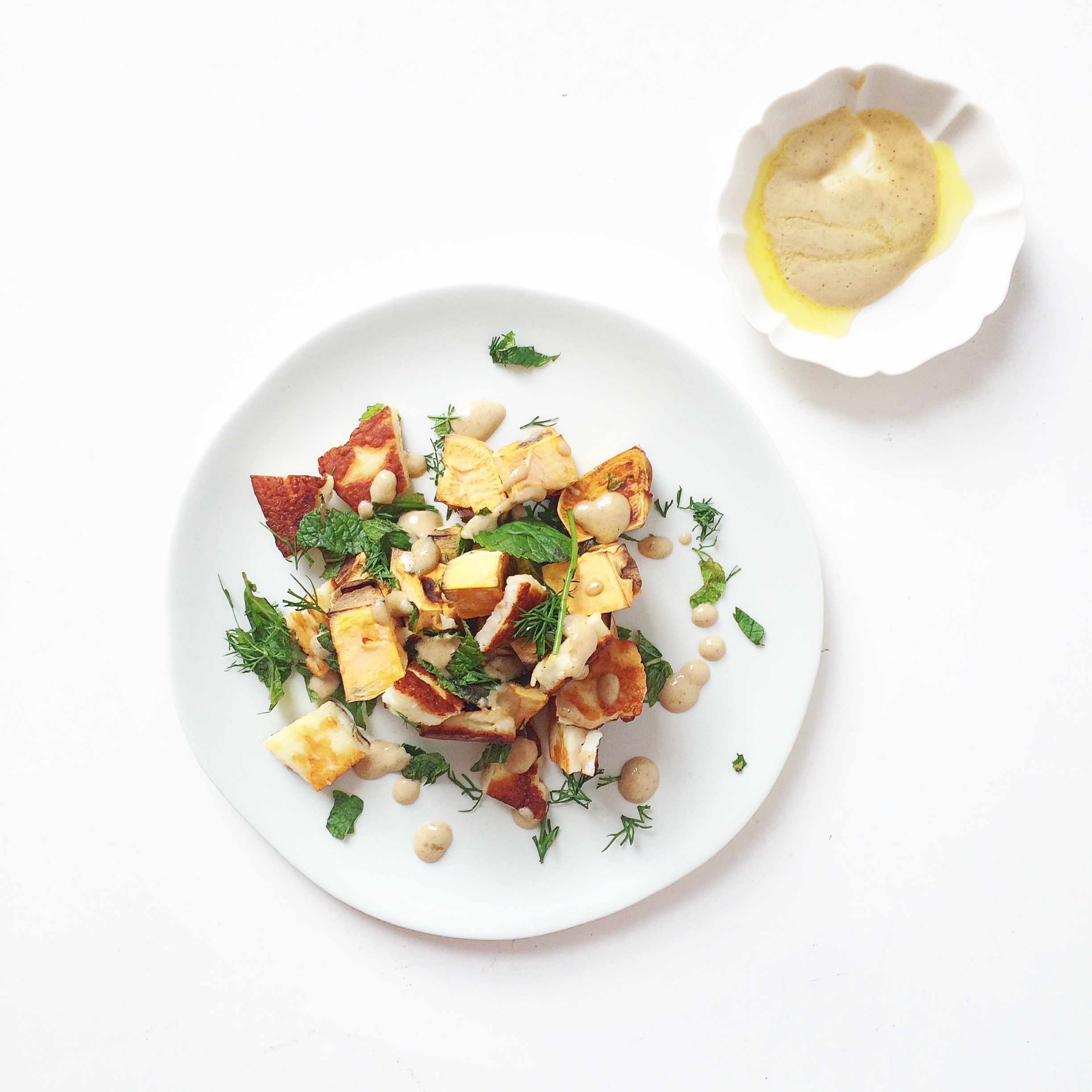 Makes one
Ingredients
1 small sweet potato
1-2 slices of halloumi cut into squares (approx 6-8)
1 teaspoon ghee (or organic butter)
8-10 fresh mint leaves
4-5 sprigs fresh dill
2 tablespoons tahini juice
1/2 fresh lemon
2 tablespoons olive oil
Generous pinch Himalayan or sea salt
Method
Pre-heat oven to 200°C. Peel and cut the sweet potato into chunks. Place on a baking sheet with parchment paper. Cook for 25-30 mins. While the sweet potato is cooking cut the halloumi into smaller squares. Heat a small pan with ghee or organic butter and lightly fry for 2 minutes on each side to give a golden colour. Remove from the heat and place into a bowl.
Wash and roughly chop the mint and dill and place and add to the bowl with the halloumi.
For the dressing mix the tahini, lemon juice, salt, 1 tablespoon olive oil and water to thin and put to one side.
Once the sweet potato has finished cooking remove from the oven and add to the bowl with the halloumi, mint and dill and combine all together. Transfer to a plate and drizzle with the dressing and the extra tablespoon of olive oil.
Whether you'll be dining in the participating restaurants or making your own Syrian-inspired creations, be sure to use the #CookForSyria hastag.
Main photograph: Charlotte Hu Photography