Embrace the chill
Small changes to your beauty regime can make a big difference to your mood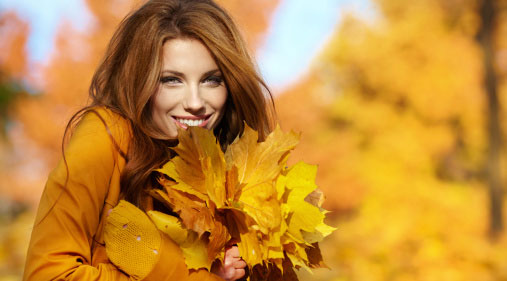 As the seasons' revolving door swings from summer to autumn and the sunshine becomes a distant memory, more often that not so do our good moods. For many, the lack of light and fall in temperature can cause tiredness, hunger, insomnia and even depression. Aside from migrating to a tropical island there are other (and cheaper) ways to tackle this transitional period.
Firstly, although tempting, don't ignore your skin just because it's hidden under a barrage of woolly layers. No doubt you've done your upmost to protect it from sun damage during the hotter months but come autumn it still needs a regular dose of TLC.
Skin brushing is a great way to slough away dead skin cells and improve tone, as well as boost your mood and energy levels. By brushing in circular motions towards your heart, you are helping to promote lymph flow and eliminate toxins from the body, giving your health a kick-start. Liz Earle's Natural Bristle Body Brush (lizearle.com, £8) has a long handle and strap for ease of use.
Massaging in a sensual body oil to complement the benefits of your skin brushing will help you to relax, too. Ren Moroccan Rose Otto Ultra-Moisture Body Oil (renskincare.com, £24) awakens the senses as well as leaving skin super-soft and nourished. For an extra lift, apply aromatherapy oils to your pulse points; ones infused with lime and orange leave you feeling optimistic and bright, changing your mood in an instant.
By winter, our confidence-boosting healthy glow can start to disappear and bright clothes are replaced by dark knits. Maintain the feel-good factor with a gradual tan that enhances your summer glow. Lavender-scented organic LDN SKINS Gradual Tan (ldnskins.com, £22) induces relaxation on application.
Make-up also plays an important factor when it comes to boosting your mood. Our make-up tends to get darker, think autumnal shades in dark metallic and deep berry hues. Keep your look and mood light and bright by opting for nudes. Warm yet neutral MAC pigment eyeshadows in Crystal Avalanche and Brule (maccosmetics.co.uk, £12.50) make you look wide-eyed and bushy-tailed.
A swipe of red lipstick is also an instant mood booster. It's a colour associated with special moments, often evoking memories of laughter and fun. Bobbi Brown's Creamy Matte Lip Color in Red Carpet (bobbibrown.co.uk, £19) adds a touch of glamour to any look.
When it comes to hair, the annual chill can cause it to become lacklustre, brittle and dry. Since it's proven that a good hair day makes a big difference, keeping your tresses in good condition is paramount. Enrich limp locks with an intensive hair mask, such as Bumble & Bumble Crème De Coco Masque, (lookfantastic.com, 22.50) a weekly treatment that creates a mirror-like shine.
For those really cold and dark winter days when you're feeling low, a pamper session never fails to raise spirits. Take time out by giving yourself a DIY manicure or pedicure. OPI's new autumn collection includes quirky textured greys and magentas (Alcatraz Rocks & Embarca-dare Ya, opi.com, £11.50). Alternatively, get out of the house and treat yourself to a professional treatment. From massages, facials and reflexology to eyelash extensions there is a host of treats to choose from. We love Bliss Triple Oxygen Therapy Facial for its energizing and skin-brightening results (blissworld.com, £150).