Brain Food Column Month Four: Work it out together
Every month, Amerley Ollennu challenges you and herself to road-test research and healthy strategies to help change the way we think about food once and for all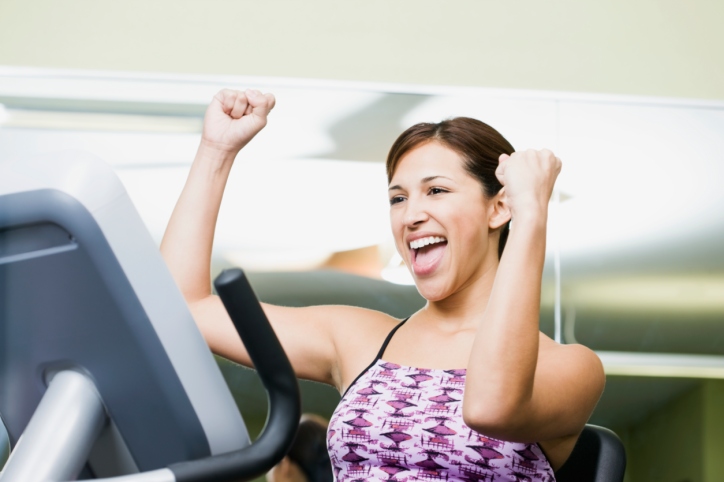 Over the last three years, I've become disconnected from my body. As I've used food for comfort I've put on more weight, avoided mirrors and ignored clothes in my wardrobe that no longer fit. The more I struggled to control my emotional eating, the less I wanted to keep up with my previous six-days-a-week workout sessions. It makes no sense to ditch exercise when food choices aren't what they should be, but my new trainer, Dan Roberts, says: 'It's very common – more often than not, the reasons why we try to eat well and exercise aren't down to health but tend to be more superficial.'
I remember an ex once telling me I was lucky I had a beautiful face, implying it was a shame my weight fluctuated so much. Rightly or wrongly, I felt like I wouldn't be successful in love and life if I didn't look 'perfect', but then when my last relationship failed, I couldn't be bothered to work so hard to look good.
The challenge
According to Roberts, 'biology hasn't caught up with our desk culture, but when we exercise properly, we re-ignite our natural athletic self.' He challenged me not to put pressure on myself to look a certain way, but to approach exercise from a new angle. I was tasked to do something I felt I'd enjoy after the initial hurdle of ingraining a new habit had passed. Roberts reminded me 'exercise is just another word for moving,' and I should see myself as an athlete in training rather than have specific weight-loss goals. According to psychologist Elaine Slater, 'irrespective of one's size, regular exercise can bring about remarkable changes not just to the external body, but internal health and has a unique capacity to counter depression, dissipate stress and give emotional eaters another outlet.'
The experience
Roberts and I meet once a week. We began by relearning basic moves to perfect my technique, and he also worked on pushing through my comfort zone. I felt ready for the challenge, so I couldn't figure out why I was finding excuses not to exercise. Working on this with Slater, I realised my body had acted as protection – I can always blame my size for not being in a relationship. Letting go of that warped sense of security was difficult, so Roberts suggested classes at my local Virgin Active, as 'being among people in similar situations can be motivational'.
The result
I quickly discovered that for this to work, I'd have to become a little more regimented with my time and not be deterred from my plan to exercise no matter what. In the beginning, I felt like I was forcing myself to go to the gym, but after a few weeks, I felt less stressed and my mood had improved so much that I started to look forward to working out. Roberts suggested I make process goals instead of weight-related ones, like attending a new class twice a week for a month, which helped me to focus on my fitness level rather than my weight. Set your own process goals and tweet them to me using #brainfood, and check out our website for recipes and workout ideas. Let's motivate each other.
Amerley Ollennu is Psychologies' Beauty and Wellbeing Editor. Find her on Twitter @AmerleyO.